Brassica crops are a widely grown cash crop in western Canada. Much of this crop is exported to the Asian and GCC market. In recent years, Clubroot has been a significant and ongoing problem that has led to yield losses and or total crop failure in most cases leading to reduced ROI.
As part of the solution to combating clubroot, crop rotation, liming and planting of clubroot-resistant varieties have been recommended. Although the aforementioned clubroot control methods help their limitations include but are not limited to the following;
Crop rotation: Although crop rotation is advisable, it only helps control the spore counts over a short period of time. It doesn't do anything about the spread of club roots via migration of the spores on the same field due to the capillary movement of water. Complete eradication of spores would need a 20 year crop rotation which isn't realistic for growers in Canada.
Liming: This is efficient in changing the polarity of the root which in turn reduces the chances of clubroot affecting the crop root. This does nothing to the "root cause" of clubroot spores still in the soil. Also, caution should be taken with this approach since it has the potential of changing the soil's pH and skewing the Ca: Mg ratio which can, in turn, lead to other issues such as imbalance/tie-up of minerals and poor nutrient absorption.
Resistant Variety: This takes care of the issue for a while before nature steps in and causes the protist to mutate to survive. Clubroot-resistant seed: Doesn't reduce spore levels and over time the spores mutate to become a more resistant specie. The cost of genetically engineered seed is $900/bag.
So, what is the solution?

Eradication of clubroot at the source (soil) by systematically reducing spore levels over time!

Keeping in mind the biotic and abiotic factors that contribute to clubroot across different farms, Custom Agricultural Intelligence Inc has developed a systematic protocol in this regard:
– Soil sampling: Carry out complete soil testing and native microbial panel testing for quantitative and qualitative analysis of soil minerals and spore counts using ICP and PCR respectively to analyze the biotic and abiotic factors that contribute to club roots. Ample biosafety protocol is followed to ensure spores are handled properly. Native benefifical microbes will be isolated and cultured from soil smaples around the area. Based on the report and our analysis, our customized formulation is tweaked by our team of biochemists. The cost of this test is included in the cost of the protocol.
-Spray Ambient Temperature: The ambient temperature for applying our product is when there is a consistent temperature of above 150 Celsius for 4 days before the day it will be sprayed.

– There will be a liquid formulation(Clubroot Relieftm) that has to be applied @3gal/Ac, using 20gal of water followed by a dry formulation (Clubroot Dunamistm) that would be broadcasted (using a spreader) @ 200lb/ac.

After the first pass above, the soil needs to be harrowed and then a second pass of a liquid formulation that has to be applied @3gal/Ac, using 20gal of water followed by a second pass of dry formulation that would be broadcasted (using a spreader) @ 200lb/ac.
This has to be done twice (for a total of 6gal of the Clubroot Relieftm and 40gal of water and 400 lbs of Clubroot Dunamistm. The dirt has to be left for 2 days before it can be seeded.
The cost of this test is included in the cost of the protocol.
-SeedBoostTM CR+ our customized seed primer MUST be used on the seed that would be seeded on these acres. (We need to know what crop would be seeded to provide the right Seed Treatment).
-20lb/ac of dunamis added in-furrow with the seed.
-At herbicide and fungicide timing our customized foliar applied formulation with native Beneficial Microbes, and growth guidance MUST be applied as early and timely as possible. @1.5L/ac. This formulation is tank mixable is conventional herbicide and fungicide.
-NB: Our herbicide application and fungicide application formulation are applied with 10gal/Ac of water.
– If possible, an extra pass is required before 10% flowering depending on the crop.

-Soil samples will be collected at the end of the cropping season.
The cost for the application of all the formulations except the seedprimering, in-furrow application, (Herbicide and fungicide timing applications) is included in the cost of the formulation/protocol and borne by Custom Ag Intel Inc.
Please note that the liquid formulation that has to be applied twice @3gal/Ac, using 20gal of water followed by a dry formulation that would be broadcasted (using a spreader) @ 200lb/ac as described above will be applied only in the first year.
Prior Results Report.
Benito, MB, 250 acres application.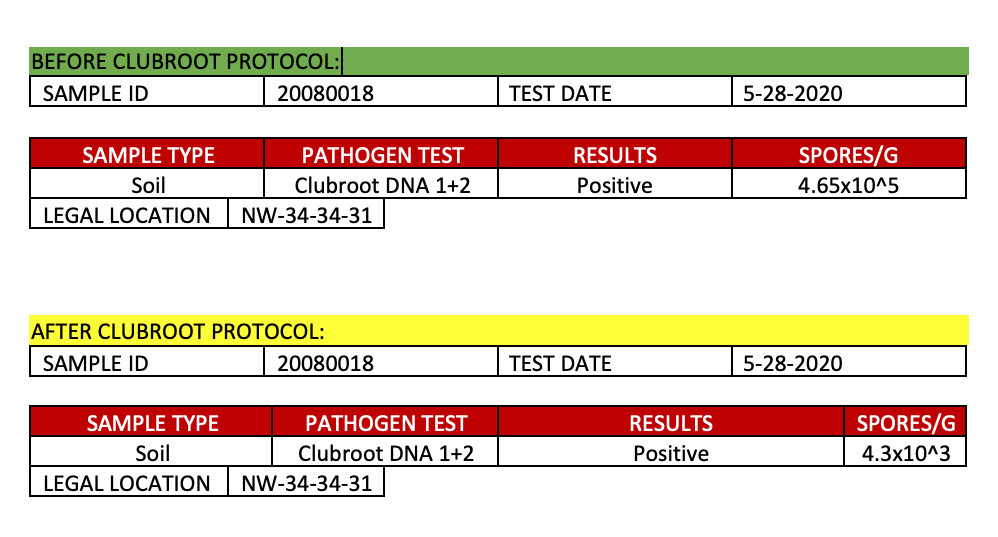 Our approach has resulted in an about over 90% consistent reduction in spore levels after 1-2 years.
Value-added Benefits of our protocol:
-As a value-added benefit, a complementary 20lbs/ac of Dunamis, herbicide and fungicide timing formulations would be provided for the acres under the protocol.
-Access to our first-of-its-kind satellite imagery powered crop monitoring system; Hiredman!
-Carbon Credit revenue will be generated and split between the grower and Custom Ag Intel based on our Carbon Credit agreement.
Download Carbon Credit Aggregator Agreement
---
Return on Investment breakdown analysis
| | |
| --- | --- |
| Current paradigm without CRRV |  |
| Yield loss to clubroot: | 70% |
| Average yields of canola: | 40bu/ac |
| Yield loss in bushels: | 28bu/ac |
| Current price of canola: | $29/bu |
| Cash value of yield loss: | $812/ac |
| Cost of Sowing Canola: | $250/ac |
| The real value of yield loss due to clubroot: | -$714/ac |
We will contact you with the return on investment and pricing of the protocol, once your details have been reviewed.
Register your Acres for our protocol to receive pricing.