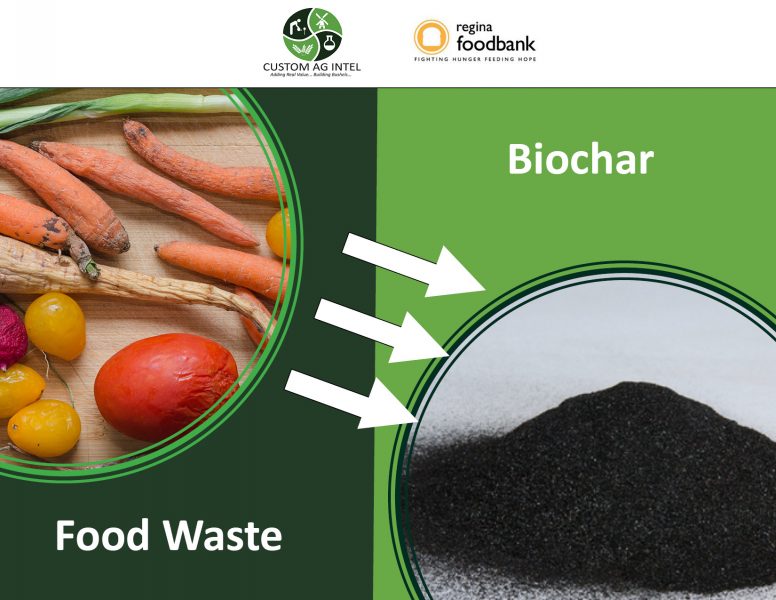 Both organizations will work together to reduce the Regina Food Bank's carbon footprint within the Regina region. The partnership will leverage proprietary technology to divert food waste from the landfill and sequester carbon emissions.
June 23rd, 2022: Custom Agricultural Intelligence (Custom Ag Intel) is delighted to announce that it has entered into a strategic collaboration with Regina Food Bank, aimed at being part of the solution to positively impact the environment in the Regina region.
This collaboration is designed to improve Regina Food Bank's carbon footprint in alignment to their social and environmental responsibility mandate. Custom Ag Intel will leverage their proprietary technology to divert and convert food waste from the landfill into compost in an eco-friendly manner. An estimated 250 metric tons of food waste will be processed into compost and into biochar fertilizer every year.
While sharing her excitement about the partnership, Bernice Richard, Chief Operating Officer of Custom Agricultural Intelligence, described the move by both companies as laudable and worthy of emulation.
"It has been our hope that this collaboration between these two organizations will raise awareness about the recyclable capabilities of food and organic waste whilst, overtime, reduce the impact of organic waste in releasing greenhouse gases to the environment," added Bernice
"Custom Ag Intel has always been a keen supporter of the Regina food bank. We are excited about providing our well-thought-out, functional technology via our Agrotech Division. We strive to be part of the solution to the progressive mandate of Greenhouse gases (GHG) reduction by the Regina food bank and the City of Regina, which aligns with our corporate values." – Emmanuel Richard, CEO of Custom Agricultural Intelligence.
With Custom Ag Intel's competence in this field, and the convergence of science and technology, this partnership presents a more efficient way of reducing carbon emissions, as opposed to releasing carbon through composted organic matter into the soil by decomposition. Custom Ag Intel also revealed this partnership will save Regina Food Bank over $20,000 per year in waste collection and disposal fees, and allow them to earn Carbon Credits and Rebates from Custom Ag Intel's approved greenhouse gases registered projects. Custom Ag Intel is the only Ag company with four approved greenhouse gas clean projects registered and approved which highlights our understanding of what it takes to fight climate change.
Driven to help the world reduce its carbon footprint and fight climate change, Custom Ag Intel offers innovative solutions for food waste management, soil health, and crop health services. The company's CEO has praised the leadership of Regina Food Bank and the City of Regina for taking a bold step toward a greener community, and believes the move will put Regina on the map as the innovative hub for greenhouse gas reduction in Canada.
On its part, Regina Food Bank is a charitable community-based organization committed to fighting food insecurity through nutritious food distribution, education, and support programs. The organization is made up of individuals dedicated to uplifting the community and believes the new partnership will help raise awareness about the many benefits of converting and reusing food waste.
John Bailey, CEO of Regina Food Bank expressed his excitement at the impact the project will have on the Regina region and praised Custom Ag Intel for their commitment to bettering the environment.
"We are excited to be embarking on such an amazing project with Custom Ag Intel. As an organization committed to feeding the community, Regina Food Bank relies on donors to give food and funds. When food donations no longer meet edible standards, we use traditional waste management for their disposal.  This is both costly and not in line with our commitment to be community champions.  This partnership will empower our commitment to create a more caring community by caring for the environment today to safeguard its health for tomorrow, and we're inspired by Custom Ag Intel for creating this opportunity for us to play our part." – John Bailey CEO, Regina Food Bank.
For more information, please reach out to either organization via the contact info below.
Custom Agricultural Intelligence Inc.
"Adding Real Value… Building Bushels…"
Tara Chen Ong | Corporate Communications Assistant
1801, Culver Avenue,RM of Sherwood, SK S4K 0A6
+1 (306) 550 5313 www.customagintel.com
Regina Food Bank
"Fighting Hunger Feeding Hope"
John Bailey │ Chief Executive Officer
Regina Food Bank │445 Winnipeg Street Regina, SK S4R 8P2
P. 306-527-4282 reginafoodbank.ca